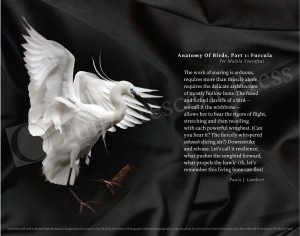 In honor of Malala Yousafzai and Kailash Satyarthi being jointly honored with the Nobel Peace Prize today, October 10, 2014, I am reprinting my poem here "Anatomy of Birds, Part 1: Furcula." Please note that I first posted it on July 14th, Malala Day, in announcement of The Furcula Project, by Full/Crescent Press: "we've turned my poem, 'Anatomy of Birds, Part 1: Furcula' into a beautifully illustrated broadside.  The poem is dedicated to Malala, and was written for her. It is intended to celebrate the strength and power of resilience all women possess. 100% of profits from posters sold will directly benefit The Malala Fund."
Anatomy of Birds, Part 1: Furcula
for Malala Yousafzai

The work of soaring is arduous,
requires more than muscle alone,
requires the delicate architecture
of mostly hollow bone. The fused
and forked clavicle of a bird—
we call it the wishbone—
allows her to bear the rigors of flight,
stretching and then recoiling
with each powerful wingbeat. (Can
you hear it? The fiercely whispered
whoosh slicing air?) Downstroke
and release. Let's call it resilience,
what pushes the songbird forward,
what propels the hawk! Oh, let's
remember this living bone can flex!
Originally published in Future Cycle Press' "Good Works" anthology, Malala: Poems for Malala Yousafzai, I wanted to keep the poem in circulation, following Future Cycle's lovely example of putting "Good Works" into the world. We decided to turn it into a broadside, and have created this truly beautiful 11″ x 14″ poster.  Sue Demitriou of Dark Nature Photography contributed the image, and Ali Wade, graphic designer for Full/Crescent Press, helped with the overall broadside design. This has been from the start a project of women helping women. We believe in the power of poetry, that it can be a changing force in the world. We're proud to support The Malala Fund in their effort "to bring awareness to the social and economic impact of girls' education and to empower girls to raise their voices, to unlock their potential, and to demand change."
You can help, too, by ordering your copy here. And we thank you, so much.
Malala said today, in a letter sent out to supporters, that:
I believe the Nobel committee didn't give this award to me. I believe they have done this because they believe education is the best weapon through which we can fight poverty, ignorance and terrorism.
I believe they did this because they don't believe in just one girl, but in all the girls whose voices need to be heard, who are under the darkness of conflict or poverty. This award is for my powerful sisters who have not been listened to for far too long.
And I raise their voices, I stand together with them.

Please stand with us as we continue to help the Malala Fund.